Jens Lehmann has revealed that the Arsenal squad was taken aback when they came to know that William Gallas would be their skipper in the 2007-08 Season.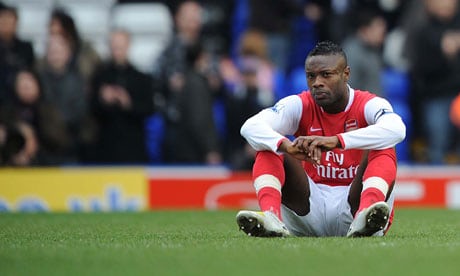 As per Lehmann who has made the revelation in his book that will be up for sale soon, Gallas had not been one of the most punctual members of the Arsenal squad. Very rarely he used to arrive to the training sessions on time and he also had that habit of leaving earlier than the other players without bothering to take permission from anyone.
Most of the members of the Arsenal squad were not great admirers of Gallas' attitude and Arsene Wenger's decision to give him the leadership role didn't amuse the squad at all.
However, Wenger's point of view was that the captaincy would change Gallas and he would become more responsible as a player.
That move seemed to be working in the earlier stages of the season as Gallas captained the team fine, but as the season progressed, he started losing his cool in crunch situations and in a game against Birmingham, he crossed the line.
One of Arsenal players Gael Clichy conceded a penalty in that game which was converted by Birmingham and that disappointed Gallas to an extent that he just went aside and slammed an advertising hoarding with his foot in anger.
Arsenal was leading the game two goals to one before things got levelled up to two-all with that penalty which remained the eventual score of the game and Gallas was not able to shrug off his disappointment even at the end of the game.
As the referee blew the final whistle, Gallas sat in the middle of the ground and remained seated there for quite a few minutes before Wenger went and got him back from there. It was such a negative gesture from someone who was leading the side.